December 1
The LORD God said to the serpent, " Because you have done this, Cursed are you more than all cattle, And more than every beast of the field; On your belly you will go, And dust you will eat All the days of your life; And I will put enmity Between you and the woman, And between your seed and her seed; He shall bruise you on the head, And you shall bruise him on the heel." - Genesis 3:14-15
In earth's early morning, God promises He will send a Deliverer. The serpent backed humanity into a corner and the biological father of the race—Adam—took the wrong way out, trapping all his descendants in his choice. But God, who sees the panorama of all time, tells the serpent and promises humanity that, though the slithering snake will inflict a non-deadly wound on the Deliverer, the Promised One would crush the serpent's head, smashing his authority and power. All history is a build-up to this promise, and all history after the Deliverer comes is a build-up to the establishment of His Kingdom universally.
Click here to sign up for your free Winning Walk newsletter!
OUR THANK YOU TO YOU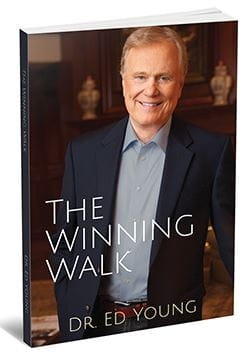 Discover God's Path for You!
Many people today live in defeat, never finding God's will for them. But God wants so much more for you!
That's why we're excited to reserve for you a special 35th Anniversary Edition of Dr. Young's book that started it all,
The Winning Walk,
scheduled for re-release later this year. In it, you'll discover what it takes to walk victoriously as you discover the path God has for you.
So be sure to reserve your copy of
The Winning Walk
when you give your gift below. And thank you for your support to share the proven truth of God's Word with more people around the world.