December 10
He says, "It is too small a thing that You should be My Servant To raise up the tribes of Jacob and to restore the preserved ones of Israel; I will also make You a light of the nations So that My salvation may reach to the end of the earth." - Isaiah 49:6
Mighty kings didn't know it, but the bottom-up revolution was shaping deep in the bosom of history, and they were merely bit players. What God began with a people at the bottom of the social, economic and political scale would progress through His Promised One until the whole world heard of Israel's—and the world's—Deliverer. He Himself would declare: "This gospel of the kingdom shall be preached in the whole world as a testimony to all the nations, and then the end will come" (Matthew 24:14).
Click here to sign up for your free Winning Walk newsletter!
OUR THANK YOU TO YOU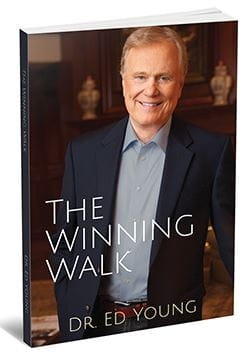 Discover God's Path for You!
Many people today live in defeat, never finding God's will for them. But God wants so much more for you!
That's why we're excited to reserve for you a special 35th Anniversary Edition of Dr. Young's book that started it all,
The Winning Walk,
scheduled for re-release later this year. In it, you'll discover what it takes to walk victoriously as you discover the path God has for you.
So be sure to reserve your copy of
The Winning Walk
when you give your gift below. And thank you for your support to share the proven truth of God's Word with more people around the world.