December 12
All of us like sheep have gone astray, Each of us has turned to his own way; But the LORD has caused the iniquity of us all To fall on Him. - Isaiah 53:6
I don't particularly like sheep. I never heard of one being strong or doing anything heroic. Some prefer the ancient Greek humanist idea that sinning shows courage to rebel against the gods. Sin is a fall uphill, they think. But sin actually is a deadly plunge, and ignoring it leads to death. Sin is rebellion against our true nature. God is grieved, but we are damaged severely when we stray. That's why Jesus took on our sin. He invites us to let all the pain be His. If that takes being a helpless sheep, than one would be a fool not to delight in the role.
Click here to sign up for your free Winning Walk newsletter!
OUR THANK YOU TO YOU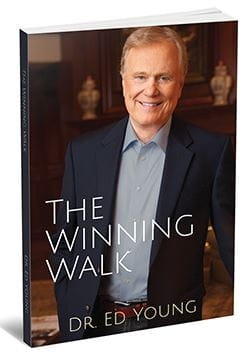 Discover God's Path for You!
Many people today live in defeat, never finding God's will for them. But God wants so much more for you!
That's why we're excited to reserve for you a special 35th Anniversary Edition of Dr. Young's book that started it all,
The Winning Walk,
scheduled for re-release later this year. In it, you'll discover what it takes to walk victoriously as you discover the path God has for you.
So be sure to reserve your copy of
The Winning Walk
when you give your gift below. And thank you for your support to share the proven truth of God's Word with more people around the world.