December 13
"… for that which refers to Me has its fulfillment."
Luke 22:37
There is a progressiveness to all the prophecies leading to Jesus Christ. In Genesis, God promises the One who will crush the serpent's head will be of the human race. Through Abraham, God identifies the nation through which Messiah will come. God shows Jacob the tribe, Judah. In His promises to David, God reveals the Deliverer's family line. Through Micah, God indicates the Messiah's hometown. Isaiah is shown the type mother who will bear Immanuel. Like a cinematographer, God slowly zooms in the lens of prophecy until Jesus Christ fills the screen of History.
Click here to sign up for your free Winning Walk newsletter!
OUR THANK YOU TO YOU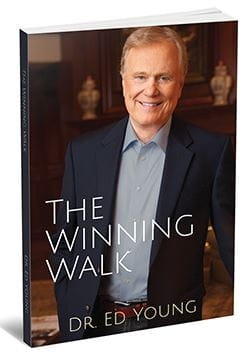 Discover God's Path for You!
Many people today live in defeat, never finding God's will for them. But God wants so much more for you!
That's why we're excited to reserve for you a special 35th Anniversary Edition of Dr. Young's book that started it all,
The Winning Walk,
scheduled for re-release later this year. In it, you'll discover what it takes to walk victoriously as you discover the path God has for you.
So be sure to reserve your copy of
The Winning Walk
when you give your gift below. And thank you for your support to share the proven truth of God's Word with more people around the world.