December 14
Jesus said to them, "I am the bread of life; he who comes to Me will not hunger, and he who believes in Me will never thirst. - John 6:35
The best humans could do until Jesus came was, like Solomon in Ecclesiastes, lament their hunger and look forward to a feast. And when the banquet table was set, many couldn't believe the bounty and passed it by. Religious people always say that grace is too good to be true. They have to bring something to the table—ceremony, ritual, scholarship, titles, credentials. They are like a gracious lady invited to dinner who inquires, "What can I bring?" But Jesus is the whole feast. "Just bring your appetite," He answers.
Click here to sign up for your free Winning Walk newsletter!
OUR THANK YOU TO YOU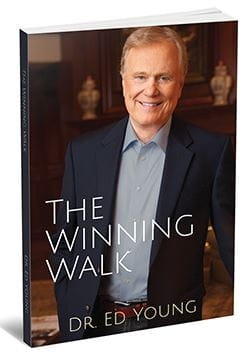 Discover God's Path for You!
Many people today live in defeat, never finding God's will for them. But God wants so much more for you!
That's why we're excited to reserve for you a special 35th Anniversary Edition of Dr. Young's book that started it all,
The Winning Walk,
scheduled for re-release later this year. In it, you'll discover what it takes to walk victoriously as you discover the path God has for you.
So be sure to reserve your copy of
The Winning Walk
when you give your gift below. And thank you for your support to share the proven truth of God's Word with more people around the world.