December 15
"I am the Light of the world; he who follows Me will not walk in the darkness, but will have the Light of life." John 8:12
Deacon Stephen looked up at Heaven and saw the glory of God as stones battered the life from him. Pharisee Saul, who cheered Stephen's death, looked up into Heaven on the Damascus Road, and was plunged into the darkness of blindness. One man looked into the Light and saw; the other gazed into the brilliance, and couldn't see. Sometimes in His mercy God blinds us until we can really see, as in the case of Saul. And then we look into His Light and behold the glory of God, like Stephen.
Click here to sign up for your free Winning Walk newsletter!
OUR THANK YOU TO YOU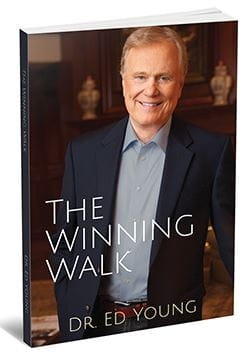 Discover God's Path for You!
Many people today live in defeat, never finding God's will for them. But God wants so much more for you!
That's why we're excited to reserve for you a special 35th Anniversary Edition of Dr. Young's book that started it all,
The Winning Walk,
scheduled for re-release later this year. In it, you'll discover what it takes to walk victoriously as you discover the path God has for you.
So be sure to reserve your copy of
The Winning Walk
when you give your gift below. And thank you for your support to share the proven truth of God's Word with more people around the world.