December 16
"I am the door; if anyone enters through Me, he will be saved, and will go in and out and find pasture." - John 10:9
To form a sheepfold, a shepherd stacked a stone wall or wove together thorn bushes. Then he lay down across a little passageway, literally becoming the "door" to the sheepfold. Jesus said the sheep go in and out. They dwell in security, go out to feed on the lush pastures, and return again to the safety of the fold, always passing through the "door"—the shepherd. The way to the lush grass and back again into the resting place was through the "door"—the shepherd. Jesus, our Shepherd, is the "door" to God and all His blessings.
Click here to sign up for your free Winning Walk newsletter!
OUR THANK YOU TO YOU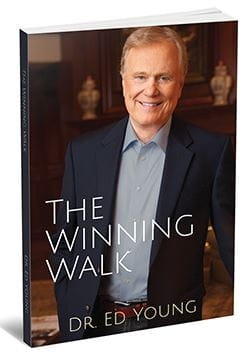 Discover God's Path for You!
Many people today live in defeat, never finding God's will for them. But God wants so much more for you!
That's why we're excited to reserve for you a special 35th Anniversary Edition of Dr. Young's book that started it all,
The Winning Walk,
scheduled for re-release later this year. In it, you'll discover what it takes to walk victoriously as you discover the path God has for you.
So be sure to reserve your copy of
The Winning Walk
when you give your gift below. And thank you for your support to share the proven truth of God's Word with more people around the world.