December 17
"I am the good shepherd; the good shepherd lays down His life for the sheep." - John 10:11
"For," in Greek, means "in place of." The wolf enters, and the shepherd becomes the lamb the predator wants to eat. This is why Jesus, the Good Shepherd, is also the Lamb of God. It doesn't mean Jesus is God's cuddly pet, but that Jesus stands in our place. When the predator prowls and licks his chops with us in view, Jesus rushes into the destroyer's line of vision. At the cross, Jesus was ravaged in our place. The wages of sin always is death, and if someone doesn't collect the wage for us, we must. The atonement is Jesus, the lamb of God, being sacrificed on our behalf.
Click here to sign up for your free Winning Walk newsletter!
OUR THANK YOU TO YOU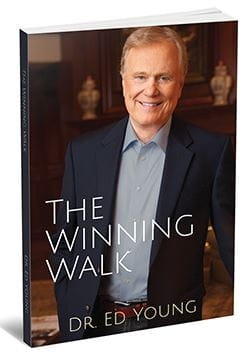 Discover God's Path for You!
Many people today live in defeat, never finding God's will for them. But God wants so much more for you!
That's why we're excited to reserve for you a special 35th Anniversary Edition of Dr. Young's book that started it all,
The Winning Walk,
scheduled for re-release later this year. In it, you'll discover what it takes to walk victoriously as you discover the path God has for you.
So be sure to reserve your copy of
The Winning Walk
when you give your gift below. And thank you for your support to share the proven truth of God's Word with more people around the world.