December 18
"… do you say of Him, whom the Father sanctified and sent into the world, 'You are blaspheming,' because I said, ' I am the Son of God'? - John 10:36
Jesus, the Son, promises us sonship. Jesus is the "only begotten" of the Father, meaning He is the only one dressed in human flesh who was directly sired by the Father. Yet Jesus Christ is fully God, eternal with the Father. Because He is the only Son, all the Father's treasures belong to Him. When Jesus brings us into His sonship, we are one with Him, and, therefore, heirs to all the promises given to the Son of God. It is as if you could be merged into being Bill Gates' only child, and heir to all his fortune.
Click here to sign up for your free Winning Walk newsletter!
OUR THANK YOU TO YOU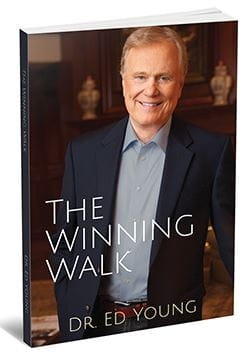 Discover God's Path for You!
Many people today live in defeat, never finding God's will for them. But God wants so much more for you!
That's why we're excited to reserve for you a special 35th Anniversary Edition of Dr. Young's book that started it all,
The Winning Walk,
scheduled for re-release later this year. In it, you'll discover what it takes to walk victoriously as you discover the path God has for you.
So be sure to reserve your copy of
The Winning Walk
when you give your gift below. And thank you for your support to share the proven truth of God's Word with more people around the world.