December 19
"I am the resurrection and the life; he who believes in Me will live even if he dies, and everyone who lives and believes in Me will never die. Do you believe this?" - John 11:25-26
In Greek, bios refers often in the Bible to structural life, existence in space and time. It is temporary. Zoe frequently expresses the God-quality of life, eternal and pure. Bios is finite—limited. Zoe is infinite—unbounded by space and time. Our bios structures are intended as the temple of God, for His indwelling Zoe, through His Spirit. Prior to receiving Christ, the temple is empty. When we receive Christ, the Holy Spirit indwells us, making us alive with His Zoe. Yet our bodies are still bios structures, and will decline and die. Someday we will have a new body, perfectly aligned with the Zoe that is our very life.
Click here to sign up for your free Winning Walk newsletter!
OUR THANK YOU TO YOU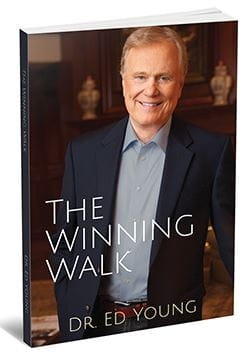 Discover God's Path for You!
Many people today live in defeat, never finding God's will for them. But God wants so much more for you!
That's why we're excited to reserve for you a special 35th Anniversary Edition of Dr. Young's book that started it all,
The Winning Walk,
scheduled for re-release later this year. In it, you'll discover what it takes to walk victoriously as you discover the path God has for you.
So be sure to reserve your copy of
The Winning Walk
when you give your gift below. And thank you for your support to share the proven truth of God's Word with more people around the world.