December 20
"I am the way, and the truth, and the life; no one comes to the Father but through Me."
John 14:6
Among those who believe all roads lead to Heaven are Mr. Relativist, Mr. Pluralist and Mr. Universalist. The relativist says there is no absolute truth, the pluralist argues that all truths are equally absolute and the universalist thinks it doesn't matter because it's all going to work out. Jesus says there's only way to the Father—through Him. Jesus declares He is the incarnation of absolute truth. Jesus identifies Himself as the Zoe-life of God, invading the earth. He silences Mr. Relativist with His assertion of absolute truth, Mr. Pluralist with the distinctiveness of His life and Mr. Universalist with His "one way" to the Father.
Click here to sign up for your free Winning Walk newsletter!
OUR THANK YOU TO YOU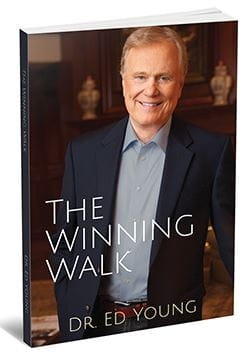 Discover God's Path for You!
Many people today live in defeat, never finding God's will for them. But God wants so much more for you!
That's why we're excited to reserve for you a special 35th Anniversary Edition of Dr. Young's book that started it all,
The Winning Walk,
scheduled for re-release later this year. In it, you'll discover what it takes to walk victoriously as you discover the path God has for you.
So be sure to reserve your copy of
The Winning Walk
when you give your gift below. And thank you for your support to share the proven truth of God's Word with more people around the world.