December 26
God, after He spoke long ago to the fathers in the prophets in many portions and in many ways, in these last days has spoken to us in His Son, whom He appointed heir of all things, through whom also He made the world. - Hebrews 1:1-2
Jesus Christ is the final, completive, summative and total word. For 1,500 years, God's Word came through the patriarchs and prophets. Thirty-nine Bible books resulted. But they could only give fragments of truth. The parts were there, scattered about like the components of a motor in an auto repair shop. But the "combustion chamber" was missing. The part that would bring energy and give meaning to all the other components wasn't there. Then, when Jesus Christ came into the world, everything was present, and pulled together in Him. No longer was the truth of the Old Covenant fragmentary and incomplete, but united and powerful.
Click here to sign up for your free Winning Walk newsletter!
OUR THANK YOU TO YOU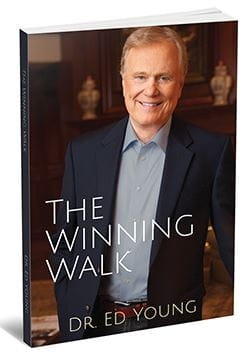 Discover God's Path for You!
Many people today live in defeat, never finding God's will for them. But God wants so much more for you!
That's why we're excited to reserve for you a special 35th Anniversary Edition of Dr. Young's book that started it all,
The Winning Walk,
scheduled for re-release later this year. In it, you'll discover what it takes to walk victoriously as you discover the path God has for you.
So be sure to reserve your copy of
The Winning Walk
when you give your gift below. And thank you for your support to share the proven truth of God's Word with more people around the world.