December 3
"Therefore the Lord Himself will give you a sign: Behold, a virgin will be with child and bear a son, and she will call His name Immanuel." - Isaiah 7:14
The Deliverer upon whom the Spirit rests will have no sin, otherwise He wouldn't be qualified to crush the head of the serpent, but would be under the serpent's head. A sin-imprisoned man cannot set others free from sin. His qualifications for atoning for humanity's sin will rest on the purity of His life. Therefore, the Deliverer is born of a virgin. The contaminated seed of Adam won't be in Him. And when the virgin names Him she will recognize Him as the Promised One. She will call Him "God-With-Us," Immanuel.
Click here to sign up for your free Winning Walk newsletter!
OUR THANK YOU TO YOU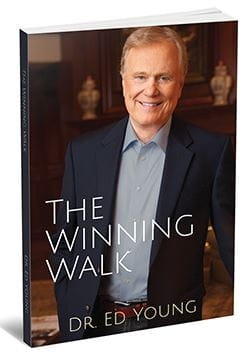 Discover God's Path for You!
Many people today live in defeat, never finding God's will for them. But God wants so much more for you!
That's why we're excited to reserve for you a special 35th Anniversary Edition of Dr. Young's book that started it all,
The Winning Walk,
scheduled for re-release later this year. In it, you'll discover what it takes to walk victoriously as you discover the path God has for you.
So be sure to reserve your copy of
The Winning Walk
when you give your gift below. And thank you for your support to share the proven truth of God's Word with more people around the world.