December 31
"Truly I say to you, that you who have followed Me, in the regeneration when the Son of Man will sit on His glorious throne, you also shall sit upon twelve thrones, judging the twelve tribes of Israel." - Matthew 19:28
Palingenesia is the destination of the promises of God. It comes from the Greek words for "again" and "birth." The New Birth of the individual human through Jesus Christ leads them into the new birth of the whole cosmos. Simon Peter speaks of the "restoration of all things" (Acts 3:21), meaning the placing of everything into its original state. God's great plan for the world and everything that is in Him is to return it to the bliss of Paradise, when all things were in perfect harmony with Him and His ways. That's your destination, if you are in Christ and share the covenant of His promise.
Click here to sign up for your free Winning Walk newsletter!
OUR THANK YOU TO YOU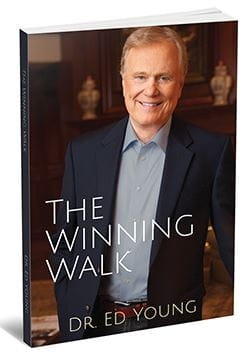 Discover God's Path for You!
Many people today live in defeat, never finding God's will for them. But God wants so much more for you!
That's why we're excited to reserve for you a special 35th Anniversary Edition of Dr. Young's book that started it all,
The Winning Walk,
scheduled for re-release later this year. In it, you'll discover what it takes to walk victoriously as you discover the path God has for you.
So be sure to reserve your copy of
The Winning Walk
when you give your gift below. And thank you for your support to share the proven truth of God's Word with more people around the world.