December 4
"But as for you, Bethlehem Ephrathah, Too little to be among the clans of Judah, From you One will go forth for Me to be ruler in Israel. His goings forth are from long ago, From the days of eternity." - Micah 5:2
The Promised Deliverer will be born in Bethlehem, Micah prophesies more than 600 years before the event. The One who will be the Bread of Life comes from the "House of Bread," the meaning of "Bethlehem." Ancient peoples marked Bethlehem as being in a fertile region, rich in grain. The Old Testament is a "trail of crumbs" leading to the Bread of Life. God gives clear clues so that people can recognize the true Messiah when He comes—even down to the place where He will be born. The Father doesn't want us to miss His Son, the Promised One.
Click here to sign up for your free Winning Walk newsletter!
OUR THANK YOU TO YOU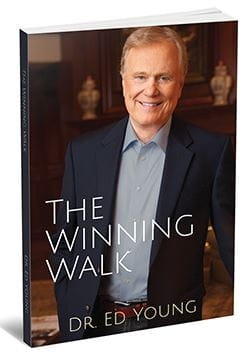 Discover God's Path for You!
Many people today live in defeat, never finding God's will for them. But God wants so much more for you!
That's why we're excited to reserve for you a special 35th Anniversary Edition of Dr. Young's book that started it all,
The Winning Walk,
scheduled for re-release later this year. In it, you'll discover what it takes to walk victoriously as you discover the path God has for you.
So be sure to reserve your copy of
The Winning Walk
when you give your gift below. And thank you for your support to share the proven truth of God's Word with more people around the world.