December 6
The people who walk in darkness Will see a great light; Those who live in a dark land, The light will shine on them. - Isaiah 9:2
The deeper the darkness, the brighter the light. Light a match in a deep cavern and it is a torch. It is those drenched in darkness who receive the shining light. When sin tightens its clutch, when misery becomes a darkening cloak, when oppression, sickness, poverty and despair close in like opaque walls, God sends His Light into the world. Those who prefer flickers to flame will not see the light. But people existing in the dark shadows yearn for the brilliance, and God will give it to them.
Click here to sign up for your free Winning Walk newsletter!
OUR THANK YOU TO YOU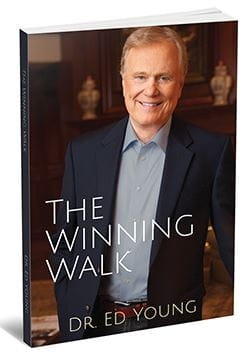 Discover God's Path for You!
Many people today live in defeat, never finding God's will for them. But God wants so much more for you!
That's why we're excited to reserve for you a special 35th Anniversary Edition of Dr. Young's book that started it all,
The Winning Walk,
scheduled for re-release later this year. In it, you'll discover what it takes to walk victoriously as you discover the path God has for you.
So be sure to reserve your copy of
The Winning Walk
when you give your gift below. And thank you for your support to share the proven truth of God's Word with more people around the world.