February 2
Joy
And the ransomed of the LORD will return And come with joyful shouting to Zion, With everlasting joy upon their heads. They will find gladness and joy, And sorrow and sighing will flee away. - Isaiah 35:10
"Life, liberty, and the pursuit of happiness" were ideals of America's founders. "Happiness," for them, was not wild living, nor endless acquisition, but a content, disciplined, ordered life. The definition has changed. Happiness, as currently understood, can be stolen by circumstances, people and possessions. Let life situation change, betrayal enter and possessions be taken, and happiness is yanked. But God's joy is an eternal state of being. His joy can never be stolen.
Click here to sign up for your free Winning Walk newsletter!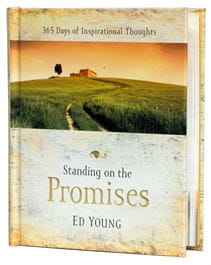 Stay in God's Word Throughout 2016!
It's the start of a new year. And inevitably, over the next 12 months, we'll all struggle at some point. That's why it's so important to stay in God's Word, so we're prepared for when the darkness sets in. Psalm 119:105 tells us, "Your word is a lamp to my feet and a light to my path." Let us help you stay in the light with Dr. Ed Young's 365-day devotional book, Standing on the Promises of God. It's our gift to thank you for your renewed financial support of The Winning Walk.