LED BY THE SPIRIT

How does a person know that he or she is a Christian? How do we really know? I'll tell you. We know because the Holy Spirit "bears witness" with our spirit, confirming in our hearts that we are indeed children of God.
Beginning with my sophomore year in high school, I was an hour-a-week Christian. I went to church, I was in attendance, I was present and accounted for. I had received Christ as an 11 year old boy, but during my high school years I became exceedingly cynical and apathetic. I showed up. That was about it. I even laughed at people who were considered "religious" by others in my little town, and went along with a lot of chicanery in which I had no business participating.
But there were some things I did not do. There were temptations as a teenager that looked incredibly good to me, but I did not give in to them. Looking back, I know why. Even with my cynical attitude, I still felt the witness of God in my life…that inner voice of the Holy Spirit saying, "You are mine. This is not for you." When I came back to Christ a few years later and gave myself anew to Him, He was with me as He had always been before. That is the inner witness of the Spirit. We may wander away or run from God, but there is a quiet place in which He deals with us and confirms that we are His own.

MEMORY VERSE

ROMANS 8:16
The spirit himself bears witness with our spirit that we are children of God.

READ THROUGH THE BIBLE

Exodus 31; Romans 12:1-12
Click here to sign up for your free Winning Walk newsletter!
OUR THANK YOU TO YOU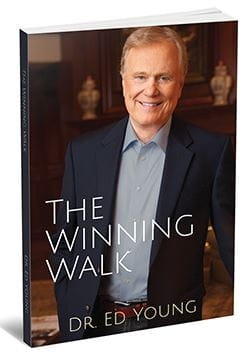 Discover God's Path for You!
Many people today live in defeat, never finding God's will for them. But God wants so much more for you!
That's why we're excited to reserve for you a special 35th Anniversary Edition of Dr. Young's book that started it all,
The Winning Walk,
scheduled for re-release later this year. In it, you'll discover what it takes to walk victoriously as you discover the path God has for you.
So be sure to reserve your copy of
The Winning Walk
when you give your gift below. And thank you for your support to share the proven truth of God's Word with more people around the world.