July 2
By the blessing of the upright a city is exalted…
Proverbs 11:11
William Bradford and the Mayflower Pilgrims dreamed of a society that would be like a "city on a hill," setting an example for all the world of what a nation would like under God's Kingdom. They brought that "DNA" into what would become America. History's freest and most prosperous nation was born, not in Philadelphia's Constitution Hall, not in the debates between the Federalists and the Anti-Federalists, not even on the Yorktown battlefield, but in the hearts of the upright people who wanted to establish a society that would glorify God.
Click here to sign up for your free Winning Walk newsletter!
---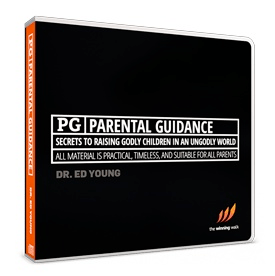 Transform how you think about parenting!
Most anyone can become a parent, but successful parenting eludes so many. Even many Christian families find themselves spiraling out of control as their children fall victim to drug and alcohol abuse, sexual promiscuity, and even suicide.

That's why Dr. Ed Young put together his easy-to-follow 3-message CD series, Parental Guidance. In it, Dr. Young reveals proven truth that every mother, father, and grandparent can immediately embrace in order to build and strengthen their family.

Parental Guidance is our gift to say thank you for your donation below to help share proven truth through The Winning Walk's broadcast ministry. We pray it transforms the way you think about parenting!