July 21
How blessed is the man whose strength is in You, in whose heart are the highways to Zion!  -  Psalms 84:5 
Happiness is in knowing where you're going and having strength for the journey. Young Anglican ministers in colonial America had to go to England for ordination. In the six-month roundtrip, some were depleted, and gave up, missing their life mission. Jim DeLoach, in his fifth decade of ministry, has had a long journey. I've known and worked with him most of those years, and can testify that the "highways to Zion" were in his heart from the beginning. God has given him strength to stay on the road, and Jim has led many others on that highway, and manifests the joy God promised.
Click here to sign up for your free Winning Walk newsletter!
---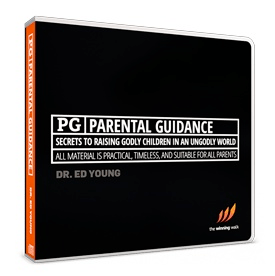 Transform how you think about parenting!
Most anyone can become a parent, but successful parenting eludes so many. Even many Christian families find themselves spiraling out of control as their children fall victim to drug and alcohol abuse, sexual promiscuity, and even suicide.
 
That's why Dr. Ed Young put together his easy-to-follow 3-message CD series, Parental Guidance. In it, Dr. Young reveals proven truth that every mother, father, and grandparent can immediately embrace in order to build and strengthen their family.
 
Parental Guidance is our gift to say thank you for your donation below to help share proven truth through The Winning Walk's broadcast ministry. We pray it transforms the way you think about parenting!