July 29
Behold, how good and how pleasant it is for brothers to dwell together in unity! It is like the precious oil upon the head, coming down upon the beard, Even Aaron's beard, coming down upon the edge of his robes. It is like the dew of Hermon coming down upon the mountains of Zion; for there the LORD commanded the blessing — life forever.-- Psalm 133
Family reunions can be happy celebrations. Every year the Huffs—my mother's family—gathers in a little metal building outside Laurel, Mississippi, to feast, swap jokes and stories and marvel over growing-up kids. Jo Beth's kin meets at Blue Mountain College, her alma mater, where the focus is fun, fun, fun. God-centered unity among kin—spiritual and physical brothers and sisters—is energizing as it spreads from Jesus Christ, the "head," down the edges of the "robe," the whole community.
Click here to sign up for your free Winning Walk newsletter!
---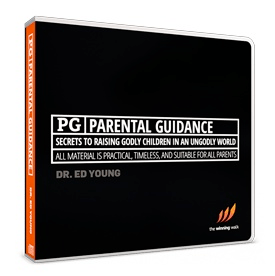 Transform how you think about parenting!
Most anyone can become a parent, but successful parenting eludes so many. Even many Christian families find themselves spiraling out of control as their children fall victim to drug and alcohol abuse, sexual promiscuity, and even suicide.
 
That's why Dr. Ed Young put together his easy-to-follow 3-message CD series, Parental Guidance. In it, Dr. Young reveals proven truth that every mother, father, and grandparent can immediately embrace in order to build and strengthen their family.
 
Parental Guidance is our gift to say thank you for your donation below to help share proven truth through The Winning Walk's broadcast ministry. We pray it transforms the way you think about parenting!