July 30
By the blessing of the upright a city is exalted, but by the mouth of the wicked it is torn down.
Proverbs 11:11
The upright are up-front. The more such straight-forward individuals make up a population, the more respected and revered the family, city or nation. A friend was building a fence, and tired of setting his leveling device by each slat, deciding instead to "eyeball" straightness. Twenty-seven slats later he had to tear out the fence and begin again, because the slight margin by which each was off expanded until the whole fence was crooked. Jesus Christ is the vertical standard by which uprightness is set. The more we are aligned by and in Him, the greater blessing we are to all those around us.
Click here to sign up for your free Winning Walk newsletter!
---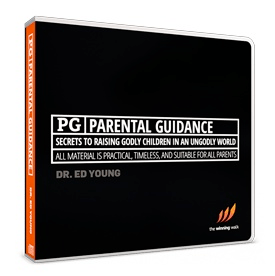 Transform how you think about parenting!
Most anyone can become a parent, but successful parenting eludes so many. Even many Christian families find themselves spiraling out of control as their children fall victim to drug and alcohol abuse, sexual promiscuity, and even suicide.
 
That's why Dr. Ed Young put together his easy-to-follow 3-message CD series, Parental Guidance. In it, Dr. Young reveals proven truth that every mother, father, and grandparent can immediately embrace in order to build and strengthen their family.
 
Parental Guidance is our gift to say thank you for your donation below to help share proven truth through The Winning Walk's broadcast ministry. We pray it transforms the way you think about parenting!