July 5
"Blessed are the poor in spirit, for theirs is the kingdom of heaven."
Matthew 5:3
Eleven-year olds in British schools were to be taught lessons in happiness through a curriculum designed by an American "guru" to reduce "a huge rise in depression, self-harm, and anti-social behavior" among the young. But happiness is a byproduct of a state of being called "joy," the fruit of the Holy Spirit. The "poor in spirit" recognize that self-made happy potions can't help them, that they are empty and depleted apart from God. Jesus has no good news for "rich in spirit," only for those so impoverished they know they need Him.
"Happiness lessons for all," By Sophie Goodchild, The Independent, July 9, 2006.
Click here to sign up for your free Winning Walk newsletter!
---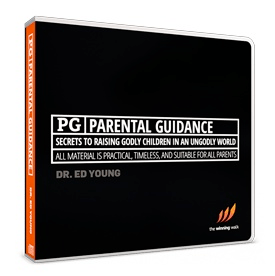 Transform how you think about parenting!
Most anyone can become a parent, but successful parenting eludes so many. Even many Christian families find themselves spiraling out of control as their children fall victim to drug and alcohol abuse, sexual promiscuity, and even suicide.

That's why Dr. Ed Young put together his easy-to-follow 3-message CD series, Parental Guidance. In it, Dr. Young reveals proven truth that every mother, father, and grandparent can immediately embrace in order to build and strengthen their family.

Parental Guidance is our gift to say thank you for your donation below to help share proven truth through The Winning Walk's broadcast ministry. We pray it transforms the way you think about parenting!