June 17
"He will exult over you with joy, He will be quiet in His love, He will rejoice over you with shouts of joy."
Zephaniah 3:17
God's love for you spans the range of emotion, from quiet contemplation, to an exuberant "hoorah!" Sin kidnapped and held you hostage. God paid the ransom in full through the cross. When you are restored to Him through Jesus Christ His joy makes the stars of heaven dance. He's like a father on a big holiday with all the family around him. He lavishes his eyes on the feast of his children's presence. Your heavenly Father rejoices in your presence, and the key to your joy is being with Him.
Click here to sign up for your free Winning Walk newsletter!
OUR THANK YOU TO YOU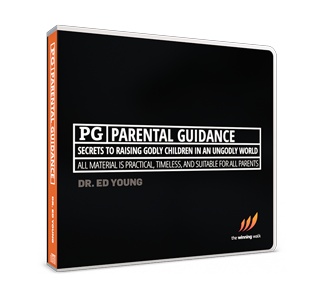 Most anyone can become a parent, but successful parenting eludes so many. Even many Christian families find themselves spiraling out of control as their children fall victim to drug and alcohol abuse, sexual promiscuity, and even suicide.
That's why Dr. Ed Young put together his easy-to-follow 3-message CD series,Parental Guidance. In it, Dr. Young reveals proven truth that every mother, father, and grandparent can immediately embrace in order to build and strengthen their family.