How blessed are those who observe His testimonies, who seek Him with all their heart.
Psalm 119:2
"Get serious." That's an admonition to people who take things lightly. Jesus' mission was to make disciples, learners who will take Him and His Kingdom with seriousness. Popular cultural religion often degenerates to a casual item of curiosity. But there's a proportionate relationship between experiencing God's blessings and taking Him seriously. Those who treasure His ways and search Him out to follow Him—to become His disciples—enter a zone of joy and strength.
Click here to sign up for your free Winning Walk newsletter!
Click here to sign up for your free Winning Walk newsletter!
OUR THANK YOU TO YOU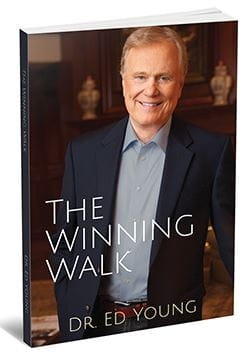 Discover God's Path for You!
Many people today live in defeat, never finding God's will for them. But God wants so much more for you!
That's why we're excited to reserve for you a special 35th Anniversary Edition of Dr. Young's book that started it all,
The Winning Walk,
scheduled for re-release later this year. In it, you'll discover what it takes to walk victoriously as you discover the path God has for you.
So be sure to reserve your copy of
The Winning Walk
when you give your gift below. And thank you for your support to share the proven truth of God's Word with more people around the world.