June 30
In this is love, not that we loved God, but that He loved us and sent His Son to be the propitiation for our sins. - 1 John 4:10
When Nixon aide Chuck Colson was convicted of Watergate-related crimes, his family was already in crisis, and Colson grieved over being removed from them to serve prison time. Colson had recently become a Christian, and was part of a group of other government officials who followed Christ. Minnesota Governor Al Quie offered to serve Colson's time in prison. The law wouldn't allow it. But it was a different case when Christ presented Himself to take your penalty and mine. God permitted His Son to take the death-sentence sin had imposed on us. He became our substitute and took on our sentence.
Click here to sign up for your free Winning Walk newsletter!
OUR THANK YOU TO YOU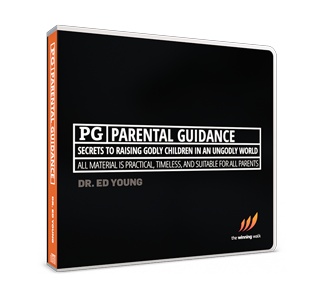 Most anyone can become a parent, but successful parenting eludes so many. Even many Christian families find themselves spiraling out of control as their children fall victim to drug and alcohol abuse, sexual promiscuity, and even suicide.
That's why Dr. Ed Young put together his easy-to-follow 3-message CD series,Parental Guidance. In it, Dr. Young reveals proven truth that every mother, father, and grandparent can immediately embrace in order to build and strengthen their family.