March 10
Do not be wise in your own eyes; Fear the LORD and turn away from evil. It will be healing to your body And refreshment to your bones. - Proverbs 3:7-8
Every person in covenant with God through Jesus Christ will be healed, sometimes in this life, for certain in the eternal. Reverential fear of the Lord and turning away from evil are two essentials for healthy living in the here and now. When you reverence God, you respect what He has made—beginning with your own body. As you turn away from evil, you also turn your back on its byproducts, including unhealthy habits that eat away at your vitality. For some, the ultimate description of exhaustion is "bone-weary." God promises that in Him there is such refreshing it overcomes tiredness in the extreme.
Click here to sign up for your free Winning Walk newsletter!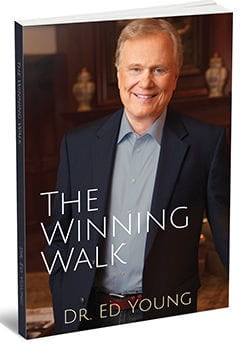 In
The Winning Walk
, Dr. Ed Young shares the basic principles and disciplines necessary to grow as a Christian. Whether you've been on the Christian journey for years or are just starting out, it will inspire you to follow God's way for your life.
The Winning Walk book is our gift to thank you for giving by our crucial March 31st financial year-end deadline. Your support will go directly to reaching people with the proven truth of God's Word.