March 23
As far as the east is from the west, So far has He removed our transgressions from us… And I will not remember your sins … Yes, You will cast all their sins Into the depths of the sea. - Psalm 103:12; Isaiah 43:25; Micah 7:19
When it comes to our sin, there's the "east-west," "amnesia" and "deep sea" promises. Through Jesus Christ, God cleanses us so completely that our guilt is as impossible to find as the dividing line between east and west horizons. God's mercy is so thorough He erases our condemning evil from His mind. God's forgiveness is so sweeping that it's as if our iniquity sinks irretrievably into the deepest ocean trench. Though our accuser attempts to discover something to bring against us, it is illusive, non-existent in the mind of Holy God, and cannot be fished out of the depths. God's grace is thorough and complete.
Click here to sign up for your free Winning Walk newsletter!
OUR THANK YOU TO YOU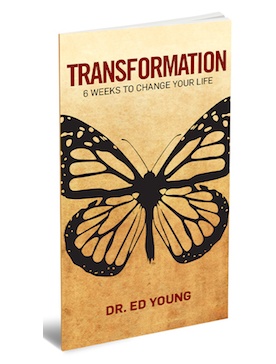 Change your life in 6 weeks!

Seeing real and lasting change in your life isn't going to happen by making a resolution, having more resolve, or reading a self-help book. The key is surrendering everything you have to God!

Dr. Young shows you how to do this in his brand new pocket-size book, Transformation: 6 Weeks to Change Your Life. And we want to send you a copy to say thank you for your donation to help The Winning Walk continue broadcasting the proven truth of God's Word around the world.

Discover the freedom you've been looking for! Request Transformation when you give your best gift below. And thank you for your generous support so more people can hear the proven truth of God's Word through The Winning Walk!