March 27
I know that everything God does will remain forever; there is nothing to add to it and there is nothing to take from it, for God has so worked that men should fear Him. - Ecclesiastes 3:14
Albert Speer, Hitler's architect, wrote of the Nazi tyrant's passion for monumental buildings that would exalt him. Speer said Hitler wanted structures built by the theory of "ruin value." Hitler wanted Speer to consider what the monuments would like in a thousand years, and design them to maintain their grandeur. There is no "ruin value" to be considered in God's works. What He does in a human life is "renewed day by day" (2 Corinthians 4:16). Rather than deterioration, there is development until the Great Day of the Lord, when all in Him reaches its telos, purpose and completeness to which nothing can be added.
Click here to sign up for your free Winning Walk newsletter!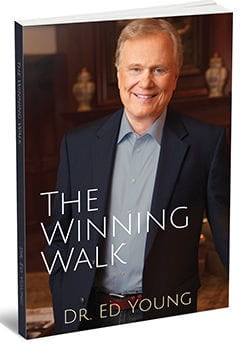 In
The Winning Walk
, Dr. Ed Young shares the basic principles and disciplines necessary to grow as a Christian. Whether you've been on the Christian journey for years or are just starting out, it will inspire you to follow God's way for your life.
The Winning Walk book is our gift to thank you for giving by our crucial March 31st financial year-end deadline. Your support will go directly to reaching people with the proven truth of God's Word.