March 28
"Behold, I stand at the door and knock; if anyone hears My voice and opens the door, I will come in to him and will dine with him, and he with Me." - Revelation 3:20
Jesus won't climb into your life by a back window. He stands at the door and knocks. When the devil seeks to control you he probes for the weak places he can exploit. When Jesus seeks entry into your heart to bring His marvelous transformation, He gives you the freedom to open the door—or leave it shut. In the ancient Middle East, supper was the best meal of the day, when people sat back and celebrated work done and the promise of the new day. Jesus knocks at your heart's door to sup with you. Let in Satan and he snatches everything on the table. Allow Jesus into your life, and He brings the feast with Him.
Click here to sign up for your free Winning Walk newsletter!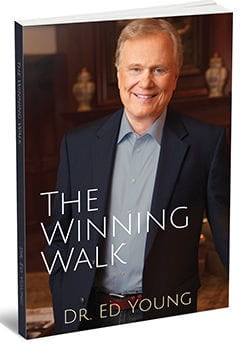 In
The Winning Walk
, Dr. Ed Young shares the basic principles and disciplines necessary to grow as a Christian. Whether you've been on the Christian journey for years or are just starting out, it will inspire you to follow God's way for your life.
The Winning Walk book is our gift to thank you for giving by our crucial March 31st financial year-end deadline. Your support will go directly to reaching people with the proven truth of God's Word.