March 3
Who will separate us from the love of Christ? Will tribulation, or distress, or persecution, or famine, or nakedness, or peril, or sword? - Romans 8:35
God the Absolute loves us absolutely. "Tribulation" can neither squeeze nor thrash us out of His heart. Being hemmed in, cornered, can't remove you from God's love. Pursuit by enemies only drives us deeper into His loving arms. Shameful exposure brings us His compassion. Threatening circumstances result in His passion to protect us. The sword cannot slice us from His unlimited love. The totality of adversity for the child is met with the totality of affection from the Father.
Click here to sign up for your free Winning Walk newsletter!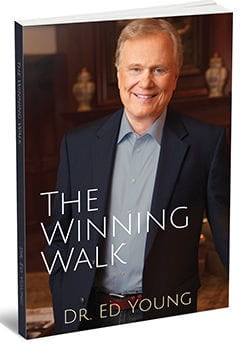 In
The Winning Walk
, Dr. Ed Young shares the basic principles and disciplines necessary to grow as a Christian. Whether you've been on the Christian journey for years or are just starting out, it will inspire you to follow God's way for your life.
The Winning Walk book is our gift to thank you for giving by our crucial March 31st financial year-end deadline. Your support will go directly to reaching people with the proven truth of God's Word.