March 30
For the eyes of the Lord are over the righteous, and his ears are open unto their prayers: but the face of the Lord is against them that do evil. - 1 Peter 3:12 KJV
Who can pray? God listens only to the righteous. A person can communicate only within a realm where he or she exists. The "righteous" are those whose life is in Christ. To receive Christ's life as one's own make a person alive in the Kingdom of God, where he and she is able to communicate. Until then, there is only one prayer: "Lord, I believe… save me." This prayer, offered by a person outside Christ, is kicking at the womb, signaling the desire to be born. God hears that initial prayer, and all others of the person born in Christ, and robed in His righteousness.
Click here to sign up for your free Winning Walk newsletter!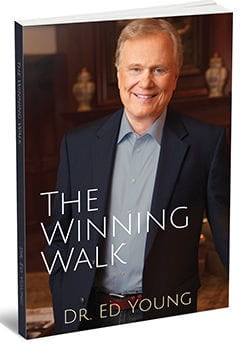 In
The Winning Walk
, Dr. Ed Young shares the basic principles and disciplines necessary to grow as a Christian. Whether you've been on the Christian journey for years or are just starting out, it will inspire you to follow God's way for your life.
The Winning Walk book is our gift to thank you for giving by our crucial March 31st financial year-end deadline. Your support will go directly to reaching people with the proven truth of God's Word.