March 31
Humble yourselves in the presence of the Lord, and He will exalt you. - James 4:10
From the world's perspective, Christ brings the "upside down" Kingdom. His realm is one in which the meek conquer, the child gets what the scholar misses, the foolish confound the wise, and the humble are lifted up. The crippled man at Pool Bethesda has waited 38 years for a lift into the water. Jesus tells him to forget the water, do what He asks, and the man will rise up. The world's way is to find the crutches that will hold us up until we get to the waters of success. In the upside down Kingdom, we humble ourselves before the Master and find ourselves exalted.
Click here to sign up for your free Winning Walk newsletter!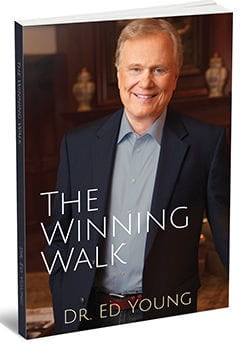 In
The Winning Walk
, Dr. Ed Young shares the basic principles and disciplines necessary to grow as a Christian. Whether you've been on the Christian journey for years or are just starting out, it will inspire you to follow God's way for your life.
The Winning Walk book is our gift to thank you for giving by our crucial March 31st financial year-end deadline. Your support will go directly to reaching people with the proven truth of God's Word.