May 12
But God demonstrates His own love toward us, in that while we were yet sinners, Christ died for us.
Romans 5:8
When we were at our worst, God gave us His best. All forms of human love have some measure of self interest attached. The Greek New Testament language provides us understanding of the nuances of love. Eros-love brings the mutual satisfaction of physical love. Phileo-love enables people to share friendship affections. To describe God's love, the Holy Spirit inspired the human Bible writers to use a term rarely employed by the Greeks—Agape, unconditional love. Nothing displays this word like Jesus dying for us on the cross while we were still in rebellion.
Click here to sign up for your free Winning Walk newsletter!
OUR THANK YOU TO YOU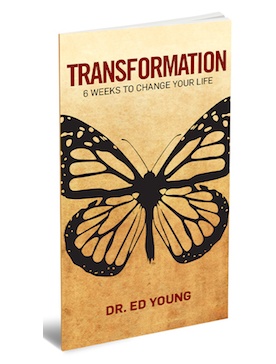 Change your life in 6 weeks!

Seeing real and lasting change in your life isn't going to happen by making a resolution, having more resolve, or reading a self-help book. The key is surrendering everything you have to God!

Dr. Young shows you how to do this in his brand new pocket-size book, Transformation: 6 Weeks to Change Your Life. And we want to send you a copy to say thank you for your donation to help The Winning Walk continue broadcasting the proven truth of God's Word around the world.

Discover the freedom you've been looking for! Request Transformation when you give your best gift below. And thank you for your generous support so more people can hear the proven truth of God's Word through The Winning Walk!