May 14
"These signs will accompany those who have believed: in My name they will cast out demons, they will speak with new tongues; they will pick up serpents, and if they drink any deadly poison, it will not hurt them; they will lay hands on the sick, and they will recover."
Mark 16:17-18
In war, infantry will slog their way to a head-on encounter with the enemy, and they must have the resources appropriate to the moment. A field commander radios map coordinates to a fighter squadron, circling overhead. Suddenly a barrage from the sky strikes the foe. God's promise to His people on Kingdom mission is to provide what they need, when they need it, and on the right coordinates. The Church loses the big point when it gets sidetracked debating the resources God gives. Instead, she is to go forward on the promise of His supply for what we need in each situation.
Click here to sign up for your free Winning Walk newsletter!
OUR THANK YOU TO YOU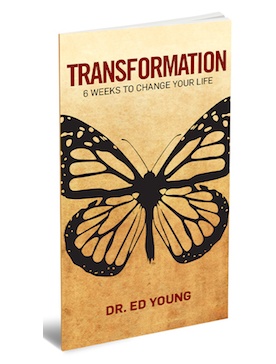 Change your life in 6 weeks!

Seeing real and lasting change in your life isn't going to happen by making a resolution, having more resolve, or reading a self-help book. The key is surrendering everything you have to God!

Dr. Young shows you how to do this in his brand new pocket-size book, Transformation: 6 Weeks to Change Your Life. And we want to send you a copy to say thank you for your donation to help The Winning Walk continue broadcasting the proven truth of God's Word around the world.

Discover the freedom you've been looking for! Request Transformation when you give your best gift below. And thank you for your generous support so more people can hear the proven truth of God's Word through The Winning Walk!