May 15
The name of the LORD is a strong tower; the righteous runs into it and is safe.
Proverbs 18:10
All people know titles for God—the "Great Spirit," "Ground of All Being," "the Man Upstairs"— but only those in covenant know His name. Each biblical name of God reflects some blessing, or favor available to those who known His name. "The Lord Is My Peace," The Lord Is My Righteousness," "The Lord Is My Healer," "The Lord Is My Provider" all reveal what God is in interaction and engagement with people. All together, the names of God revealed in the Bible are the stones comprising the "strong tower." No wonder His people are safe and secure when they run into it for sanctuary.
Click here to sign up for your free Winning Walk newsletter!
OUR THANK YOU TO YOU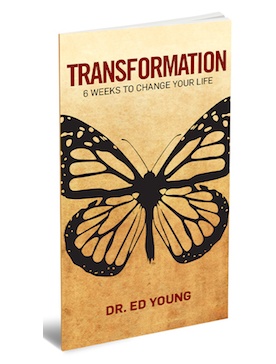 Change your life in 6 weeks!

Seeing real and lasting change in your life isn't going to happen by making a resolution, having more resolve, or reading a self-help book. The key is surrendering everything you have to God!

Dr. Young shows you how to do this in his brand new pocket-size book, Transformation: 6 Weeks to Change Your Life. And we want to send you a copy to say thank you for your donation to help The Winning Walk continue broadcasting the proven truth of God's Word around the world.

Discover the freedom you've been looking for! Request Transformation when you give your best gift below. And thank you for your generous support so more people can hear the proven truth of God's Word through The Winning Walk!