May 21
For you know the grace of our Lord Jesus Christ, that though He was rich, yet for your sake He became poor, so that you through His poverty might become rich.
2 Corinthians 8:9
What we consider as riches tells a lot about us. A friend visited Mother Teresa's House for the Dying in Calcutta. She asked a helper, "How do you stand doing this day after day?" The woman pointed to a portrait of Jesus, with the caption, My Lord and my God. "He is not only my Lord and my God, but He has given me the privilege to be here His hands, eyes, mind and feet. I count it a privilege," The woman said. The little lady ministering to Calcutta's dying was more joyful in her wealth of opportunity than moguls in their mammon.
Click here to sign up for your free Winning Walk newsletter!
OUR THANK YOU TO YOU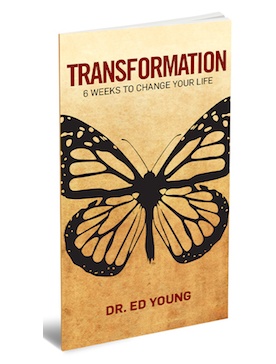 Change your life in 6 weeks!

Seeing real and lasting change in your life isn't going to happen by making a resolution, having more resolve, or reading a self-help book. The key is surrendering everything you have to God!

Dr. Young shows you how to do this in his brand new pocket-size book, Transformation: 6 Weeks to Change Your Life. And we want to send you a copy to say thank you for your donation to help The Winning Walk continue broadcasting the proven truth of God's Word around the world.

Discover the freedom you've been looking for! Request Transformation when you give your best gift below. And thank you for your generous support so more people can hear the proven truth of God's Word through The Winning Walk!