May 27
"I am the LORD, I have called You in righteousness, I will also hold You by the hand and watch over You, and I will appoint You as a covenant to the people, As a light to the nations…"
Isaiah 42:6
A New Guinea native attended a missions conference in Singapore. He had never seen a city, and was amazed at the "long buildings." But he was terrified by the rushing traffic. One day he was crossing the street with a conference participant, who worked in urban areas. The man from New Guinea hesitated at the curb. The city missionary took him by the hand. "When I come to your jungle, you will hold my hand to help me. When you come to my jungle, I will hold your hand, and help you." God holds our hand through life's jungles.
Click here to sign up for your free Winning Walk newsletter!
OUR THANK YOU TO YOU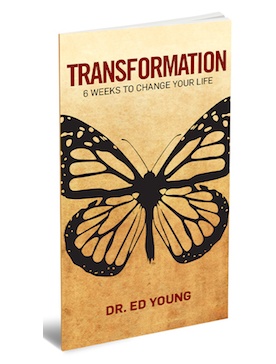 Change your life in 6 weeks!

Seeing real and lasting change in your life isn't going to happen by making a resolution, having more resolve, or reading a self-help book. The key is surrendering everything you have to God!

Dr. Young shows you how to do this in his brand new pocket-size book, Transformation: 6 Weeks to Change Your Life. And we want to send you a copy to say thank you for your donation to help The Winning Walk continue broadcasting the proven truth of God's Word around the world.

Discover the freedom you've been looking for! Request Transformation when you give your best gift below. And thank you for your generous support so more people can hear the proven truth of God's Word through The Winning Walk!