May 29
"For I, the Son of Man, will come in the glory of my Father with his angels and will judge all people according to their deeds." - Matthew 16:27 NLT
Deeds fall into three categories. One is "brick deeds." These evil acts layer into a high tower. We glory in the height of our works, only to find they are also our judgment as they come crashing down on us in the earthquake of God's wrath. Then there are "kindling" deeds. Everything we lay on the foundation of Christ that does not honor and point people to Him is burned up (1 Corinthians 3:12, 15). The third is the "investment deed." These are the enduring treasures we "lay up" in Heaven (Matthew 6:20) which determine our rewards in eternity.
Click here to sign up for your free Winning Walk newsletter!
OUR THANK YOU TO YOU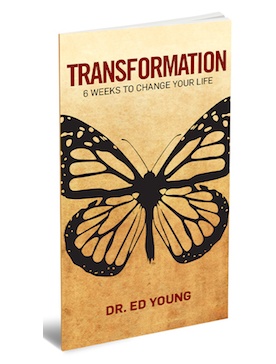 Change your life in 6 weeks!

Seeing real and lasting change in your life isn't going to happen by making a resolution, having more resolve, or reading a self-help book. The key is surrendering everything you have to God!

Dr. Young shows you how to do this in his brand new pocket-size book, Transformation: 6 Weeks to Change Your Life. And we want to send you a copy to say thank you for your donation to help The Winning Walk continue broadcasting the proven truth of God's Word around the world.

Discover the freedom you've been looking for! Request Transformation when you give your best gift below. And thank you for your generous support so more people can hear the proven truth of God's Word through The Winning Walk!