May 30
Many are the sorrows of the wicked, but he who trusts in the LORD, lovingkindness shall surround him.
-Psalm 32:10
Noise is the nagging companion that stalks us everywhere. Music drones in waiting rooms, thuds in restaurants, where dishes clatter and orders are shouted. At home the TV blares, phones ring, doors slam, pets yelp. It makes one yearn for a cone of silence. That day when an adulterous woman was brought to Jesus, the accusing religious herd was silenced suddenly. "Let the one who has no sin throw the first stone," He said (John 8:7). Sounds of dropping stones and scampering feet replaced growling voices; then there was silence. The Prince of Peace had surrounded her with lovingkindness.
Click here to sign up for your free Winning Walk newsletter!
---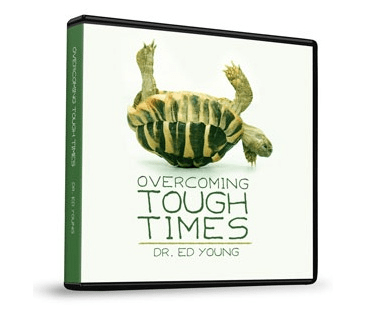 Endure Suffering with Unwavering Faith
Dr. Ed Young looks to the book of Job in his CD series, Overcoming Tough Times, and finds answers to the question we all ask in the face of suffering: "Why is this happening to me?" Dr. Young helps you answer this question through the five messages in this series, including:
"The Purpose of Suffering"
"How NOT to Comfort"
"The Great Question"
"The Great Affirmation"
"The Source of Wisdom"
Overcoming Tough Times is our gift to thank you for your donation to The Winning Walk, so please give generously now. And may you be encouraged to face your own suffering with unwavering faith.