June 3
"Every branch in Me that does not bear fruit, He takes away; and every branch that bears fruit, He prunes it so that it may bear more fruit."
John 15:2
Religion is doing with the hope it will lead to spiritual being. Life in Christ is being that leads to doing. Religion is "do's" and "don'ts," but life in Christ is being attached to Him, like a branch to a tree. As long as the branch is linked to the tree, fruit "happens." Branches don't do self-pruning. The "husbandman"—the farmer—does the hacking. Our mission is to abide in Christ. When there's something in us not bearing fruit, God will reveal it as we pray and study His Word. Then we submit to His pruning through repentance, and He lops off the fruitless twig.
Click here to sign up for your free Winning Walk newsletter!
OUR THANK YOU TO YOU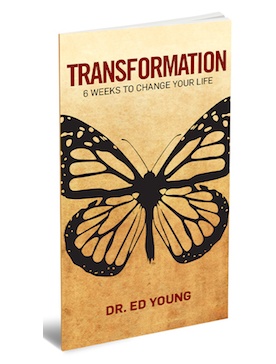 Change your life in 6 weeks!

Seeing real and lasting change in your life isn't going to happen by making a resolution, having more resolve, or reading a self-help book. The key is surrendering everything you have to God!

Dr. Young shows you how to do this in his brand new pocket-size book, Transformation: 6 Weeks to Change Your Life. And we want to send you a copy to say thank you for your donation to help The Winning Walk continue broadcasting the proven truth of God's Word around the world.

Discover the freedom you've been looking for! Request Transformation when you give your best gift below. And thank you for your generous support so more people can hear the proven truth of God's Word through The Winning Walk!