November 10
… hope does not disappoint, because the love of God has been poured out within our hearts through the Holy Spirit who was given to us.
Romans 5:5
Hope and love are connected like heart and lung. When the breathing gets stressed and comes in troubled gasps, the heart keeps pulsating. Spiritually, when we are constricted and pressured, the Holy Spirit reminds us with the constancy of a beating heart that God's love is overseeing it all. "Hope" to win millions in a lottery and you're likely to be disappointed. The Greek word for "hope" used in Romans means anticipation with expectancy. That means when we pass through suffering we expect to discover in its hardships the manifestation of His love.
Click here to sign up for your free Winning Walk newsletter!
OUR THANK YOU TO YOU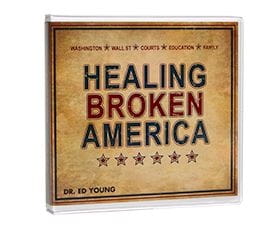 Be a Part of the Healing of Broken America!
A quick glance at the nightly news, the newspaper, or the Internet reveals that we are experiencing one crisis after another. Washington is broken, Wall Street is broken, the
courts are broken, the schools are broken. Even the
family
is broken!
In his 6-message CD series,
Healing Broken America
, Dr. Ed Young addresses head-on the major areas in our country that must change if we are to see our nation restored. He clearly defines the five areas where America is broken, and then offers common sense, biblically-based remedies for healing those wounded areas. Learn how to be part of the solution for America.