November 12
Say among the nations, "The LORD reigns; Indeed, the world is firmly established…"
Psalm 96:10
A friend stepped off a plane in a strife-torn nation and said it felt as if the very atmosphere was trembling. He fought panic, wanting to run back up the steps of the aircraft, and zoom out of the place. But then my associate remembered that God ultimately reigns over all. The devil has usurped power temporarily in the fallen world, but Almighty God's hand steadies the world, and before it's all over will again manifest His reign everywhere. The world is firmly established in His plan, and not even the devil's rebellion can bring it down to hell with him.
Click here to sign up for your free Winning Walk newsletter!
OUR THANK YOU TO YOU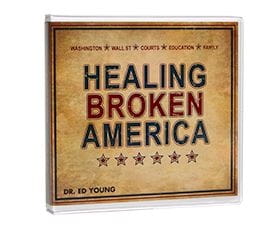 Be a Part of the Healing of Broken America!
A quick glance at the nightly news, the newspaper, or the Internet reveals that we are experiencing one crisis after another. Washington is broken, Wall Street is broken, the
courts are broken, the schools are broken. Even the
family
is broken!
In his 6-message CD series,
Healing Broken America
, Dr. Ed Young addresses head-on the major areas in our country that must change if we are to see our nation restored. He clearly defines the five areas where America is broken, and then offers common sense, biblically-based remedies for healing those wounded areas. Learn how to be part of the solution for America.