November 15
For I am not ashamed of the gospel, for it is the power of God for salvation to everyone who believes, to the Jew first and also to the Greek.
Romans 1:16
"I'm proud of the Gospel," says Paul (Moffet Translation). When I'm proud of what I can do without God, it positions me like a raft trying to go upstream in gushing rapids. But when I'm proud of the transforming work of the Gospel in my life and others, I'm flowing in the mighty river of God, buoyed by His surge. My pride says I can change myself, but humility says only Jesus Christ can transform me. I have no grounds for personal pride, but immense reason to be proud of His power, declared in the Good News of Jesus Christ.
Click here to sign up for your free Winning Walk newsletter!
OUR THANK YOU TO YOU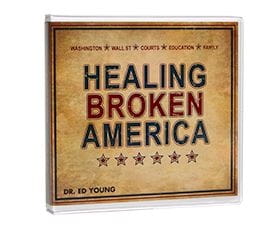 Be a Part of the Healing of Broken America!
A quick glance at the nightly news, the newspaper, or the Internet reveals that we are experiencing one crisis after another. Washington is broken, Wall Street is broken, the
courts are broken, the schools are broken. Even the
family
is broken!
In his 6-message CD series,
Healing Broken America
, Dr. Ed Young addresses head-on the major areas in our country that must change if we are to see our nation restored. He clearly defines the five areas where America is broken, and then offers common sense, biblically-based remedies for healing those wounded areas. Learn how to be part of the solution for America.