November 16
A righteous man who walks in his integrity — How blessed are his sons after him.
Proverbs 20:7
The military officer sat in a prison camp. "You have one hour to live," his captors told him, "and one letter to write." The POW penned one sentence to his son. "Dear Bill, the word is integrity." The young man wouldn't have his father during critical formative years, but he had his dad's character going before him. The son was blessed. Integrity is a handsome garment, woven of who you are when no one is watching, what you stand for, and the name you carry. Integrity is among the greatest riches we can pass to our children.
Click here to sign up for your free Winning Walk newsletter!
OUR THANK YOU TO YOU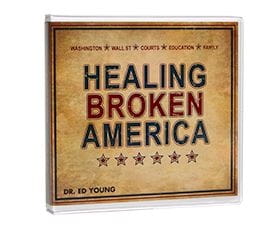 Be a Part of the Healing of Broken America!
A quick glance at the nightly news, the newspaper, or the Internet reveals that we are experiencing one crisis after another. Washington is broken, Wall Street is broken, the
courts are broken, the schools are broken. Even the
family
is broken!
In his 6-message CD series,
Healing Broken America
, Dr. Ed Young addresses head-on the major areas in our country that must change if we are to see our nation restored. He clearly defines the five areas where America is broken, and then offers common sense, biblically-based remedies for healing those wounded areas. Learn how to be part of the solution for America.