November 2
… all the earth will be filled with the glory of the LORD.
Numbers 14:21
God delights in filling things. He filled the void with His word, and created the universes. He breathed into a clay-lump, and it became a human being. God fills a fallen person with His Holy Spirit, and the man or woman becomes a new creation. The devil tries to fill things with his presence, believing he can block the habitation of God's Spirit. But with the flick of a finger, Jesus banishes the demons. When God's glory fills the earth, the devil and his demonic host will be displaced, and the whole world will reflect God's pure character.
Click here to sign up for your free Winning Walk newsletter!
OUR THANK YOU TO YOU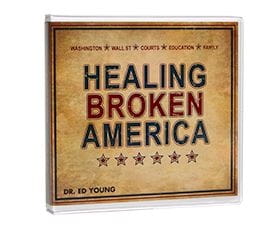 Be a Part of the Healing of Broken America!
A quick glance at the nightly news, the newspaper, or the Internet reveals that we are experiencing one crisis after another. Washington is broken, Wall Street is broken, the
courts are broken, the schools are broken. Even the
family
is broken!
In his 6-message CD series,
Healing Broken America
, Dr. Ed Young addresses head-on the major areas in our country that must change if we are to see our nation restored. He clearly defines the five areas where America is broken, and then offers common sense, biblically-based remedies for healing those wounded areas. Learn how to be part of the solution for America.