November 2
… all the earth will be filled with the glory of the LORD. Numbers 14:21
God delights in filling things. He filled the void with His word, and created the universes. He breathed into a clay-lump, and it became a human being. God fills a fallen person with His Holy Spirit, and the man or woman becomes a new creation. The devil tries to fill things with his presence, believing he can block the habitation of God's Spirit. But with the flick of a finger, Jesus banishes the demons. When God's glory fills the earth, the devil and his demonic host will be displaced, and the whole world will reflect God's pure character.
Click here to sign up for your free Winning Walk newsletter!
---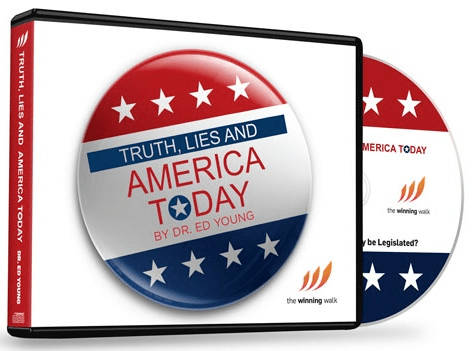 We've been told lies as a society, and many of us – even believers – have come to accept them as truth.
 
Dr. Ed Young exposes many of these lies in his 3-message CD series 'Truth, Lies, and America Today.'

You'll hear about steps you can take to:
       •Reestablish God's truth in your home and community
       •Rebuild our nation's moral foundation
       •Restore hope for future generations  

'Truth, Lies, and America Today' is our gift to thank you for your first monthly gift as a Winning Walk Pacesetter.
 
The faithful support of Pacesetters is crucial for helping proclaim proven truth on radio, television, and the internet – so please prayerfully consider becoming a Pacesetter today.
 
When you do, we'll send you 'Truth, Lies, and America Today' to help stand against the lies of our culture with the proven truth of God's Word.
 
We're so grateful for your partnership!