November 21
For everything created by God is good, and nothing is to be rejected if it is received with gratitude; for it is sanctified by means of the word of God and prayer. - 1 Timothy 4:4-5
Sanctification isn't a religious car wash. Pass through a grinding, scrubbing washing machine and the mud comes off. The car comes out on the other side glimmering. Sanctification, however, is the process by which God sets things apart for the use He intended. He created all things to fulfill His purposes. They are corrupted by human sin. But when God recovers them He restores them to His high aims. And that includes human beings soured and dirtied by sin.
Click here to sign up for your free Winning Walk newsletter!
OUR THANK YOU TO YOU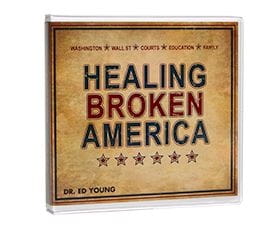 Be a Part of the Healing of Broken America!
A quick glance at the nightly news, the newspaper, or the Internet reveals that we are experiencing one crisis after another. Washington is broken, Wall Street is broken, the
courts are broken, the schools are broken. Even the
family
is broken!
In his 6-message CD series,
Healing Broken America
, Dr. Ed Young addresses head-on the major areas in our country that must change if we are to see our nation restored. He clearly defines the five areas where America is broken, and then offers common sense, biblically-based remedies for healing those wounded areas. Learn how to be part of the solution for America.