November 23
Be anxious for nothing, but in everything by prayer and supplication with thanksgiving let your requests be made known to God. And the peace of God, which surpasses all comprehension, will guard your hearts and your minds in Christ Jesus.
Philippians 4:6-7
Nirvana, a concept in several Oriental religions, is the state of detachment from all pain and concerns, which translates ultimately to turning off the capacity to interact with the wound-giving world. "Anxious for nothing" doesn't mean Nirvana. Christ's followers are called to be engaged with stark daily reality, not withdraw. Rather, to be "anxious for nothing" means that we are not to worry constantly, or keep turning concerns over in our minds. As we live in the fury of the world, turning over our fears and scars to God, His peace guards us.
Click here to sign up for your free Winning Walk newsletter!
OUR THANK YOU TO YOU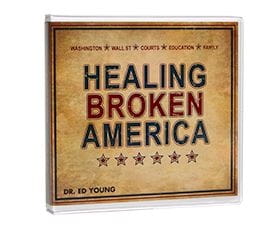 Be a Part of the Healing of Broken America!
A quick glance at the nightly news, the newspaper, or the Internet reveals that we are experiencing one crisis after another. Washington is broken, Wall Street is broken, the
courts are broken, the schools are broken. Even the
family
is broken!
In his 6-message CD series,
Healing Broken America
, Dr. Ed Young addresses head-on the major areas in our country that must change if we are to see our nation restored. He clearly defines the five areas where America is broken, and then offers common sense, biblically-based remedies for healing those wounded areas. Learn how to be part of the solution for America.