November 24
"He who offers a sacrifice of thanksgiving honors Me; And to him who orders his way aright I shall show the salvation of God." - Psalm 50:23
Seeing the salvation of God isn't watching a cheap sideshow. Sign-seekers in Jesus' day wanted to see strange sights and be entertained with miracles. Seeing the salvation of God means observing the outcomes of commitment to Him. A missionary heard of an African sorcerer who could turn men into elephants, and the missionary was intimidated. "I can't do that," he fretted. Then the missionary realized that it's nothing to reduce a human being to a lower order in a fallen world. The real miracle is a sinful person made Christ-like. That's seeing the salvation of God.
Click here to sign up for your free Winning Walk newsletter!
OUR THANK YOU TO YOU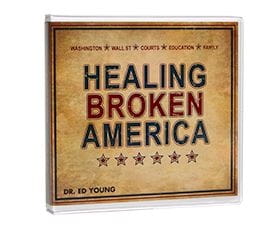 Be a Part of the Healing of Broken America!
A quick glance at the nightly news, the newspaper, or the Internet reveals that we are experiencing one crisis after another. Washington is broken, Wall Street is broken, the
courts are broken, the schools are broken. Even the
family
is broken!
In his 6-message CD series,
Healing Broken America
, Dr. Ed Young addresses head-on the major areas in our country that must change if we are to see our nation restored. He clearly defines the five areas where America is broken, and then offers common sense, biblically-based remedies for healing those wounded areas. Learn how to be part of the solution for America.