November 25
O give thanks to the LORD, for He is good; For His loving kindness is everlasting. - 1 Chronicles 16:34
Divorce hurts all concerned. It especially hurts God's heart. Divorce interrupts the flow of love and kindness between two people. Many attempt an amicable separation, but it's hard to keep out the strife that ended the marriage in the first place. God never divorces His covenant people. We may wound His heart, and even pass through seasons when our ways aren't compatible with His, but He doesn't break off relationship. He works and waits patiently for our return because His lovingkindness is everlasting.
Click here to sign up for your free Winning Walk newsletter!
OUR THANK YOU TO YOU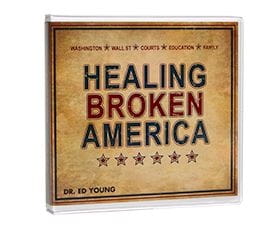 Be a Part of the Healing of Broken America!
A quick glance at the nightly news, the newspaper, or the Internet reveals that we are experiencing one crisis after another. Washington is broken, Wall Street is broken, the
courts are broken, the schools are broken. Even the
family
is broken!
In his 6-message CD series,
Healing Broken America
, Dr. Ed Young addresses head-on the major areas in our country that must change if we are to see our nation restored. He clearly defines the five areas where America is broken, and then offers common sense, biblically-based remedies for healing those wounded areas. Learn how to be part of the solution for America.